Among the most prominent diving destinations in Indonesia is Raja Ampat or Four Kings. The archipelago located in West Papua province boasts over 1,500 islands and is part of the famous Coral Triangle which is renowned for its diverse range of species.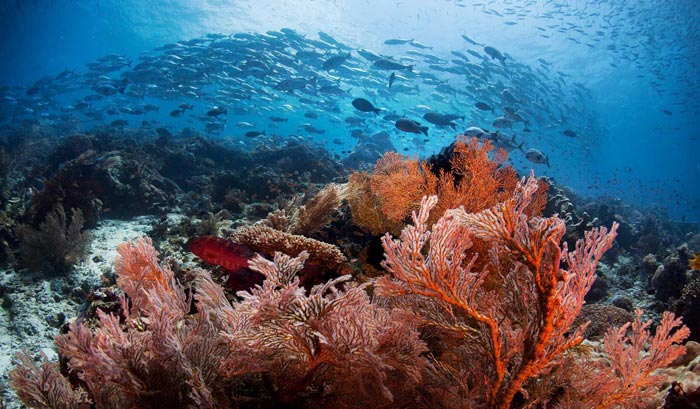 Dive Sites in Raja Ampat
If you are planning a diving tour of the area, below are some of the best diving sports which you should try:
Manta Sandy: This is the ideal diving spot, especially for beginners, and it is a cleaning station for different fish from October through to April and the shallow waters allow for awesome views.
Francisco's Peak: Ideal for beginners to intermediate level divers. Named after a guest staying at the Biodiversity resort, this offers beautiful colorful Anthias and Fusiliers, ghost pipefish, Blue Spotted Stingrays, and the elusive pygmy seahorse among other creatures.
Friwin Island: Ideal for beginners to intermediate level divers and consists of various dive sites, among them Friwin Garden and Friwin Wall. There are hard corals of all colors, countless colorful Anthias, Wrasses, White tip sharks, Fusiliers and Triggerfish which create an aquarium atmosphere.
Jef Fam: These karst Islands are located conveniently 2 hours from Biodiversity Resort and boast two amazing dive sites. These sites have moderate currents and depth for a relaxed dive and plenty of species including the bicolor angelfis, carpet shark and mimic octopus.
Batu Lima (Five Rocks): The site has mild to strong currents with a maximum depth of 24 meters. It is a favorite with divers due to an amazing variety of species including Fusiliers, Triggerfish, Unicorn Fish and Black Tip Reef Sharks around the rocks.
Mioskun: This is the most popular dive site in the Raja Ampat islands due to a diverse range of species including barracudas, white tip sharks or trevallies, garden eels, schools of black snappers, fusiliers and butterfly fish. The shallow waters are also ideal for beginners
Misool (kalediscope): The largest island on Raja Ampat and also boasts the most impressive array of creatures and corals in stunning colors. The sloping walls are home to fantastic corals together with species such as Harlequin shrimp and pygmy sea horses.
Mike's Point: 3 to 30 meters deep, this dive site features crevices and overhangs resulting from consistent bombing during WW II. Sweetlips or tunas are the major species and the island is perfect for photography.
Cape Kri: 5 to 25 meters deep, this is the most famous dive site in the area due to the 283 species found there including Fusiliers, Damsels, Trevallies, Grey Reef , Surgeons and Anthias, Dogtooth Tuna, Barracuda, Mackerel, , Black tip Reef and White Tip Reef Sharks among others.
Choose your best dive site and build up your diving experience at the coral triangle with Papua Paradise Eco Resort.