Papua Paradise Eco Resort is blessed to be located in one of the world's most stunning natural environments, above and below the water. To make the most of your stay in this incredible region, we are happy to offer you a number of exciting tours. Explore the neighboring islands, trek through pristine rainforest, go searching for rare and beautiful species of flora and fauna, and dive magnificent coral reefs. With over 1300 species of reef fish, countless other bizarre and beautiful crustaceans, cephalopods, marine reptiles and mammals, you've come to the right place to witness nature at its most breathtaking.
At Papua Paradise we try to minimize our environmental impact by observing responsible and sustainable tourism practices. Our guides are educated in conservation and the best practices in this particular environment so you can feel confident that your trips are not damaging or disturbing the animal or plant life in the region.
RED BIRD OF PARADISE TRIP
You don't have to be a bird enthusiast to be enchanted by Papua's endemic Birds of Paradise. Seeing these beautiful creatures in the wild is a must when you visit Papua Paradise Eco Resort. On the Red Bird of Paradise Tour you'll leave before dawn (around 4:30am) and travel 30 minutes by boat to a neighboring island and then walk for around 45 minutes through pristine rainforest. Along the way your guide will tell you about the animal and plant life of the jungle. When you arrive at the location we most often see the elusive red bird of paradise, you'll wait
quietly and watch from about 20-25 metres away. When your patience pays off and you see the flash of yellow around their head and dark red back and wings you'll never forget the sight of this magnificent bird. The tour takes approximately 4 hours and you'll need a hat, sunscreen, sunglasses, and waterproof walking shoes. You will also be supplied with coffee and tea and snacks, as well as binoculars. This trip has some steep climbs, so requires a moderate level of fitness and good walking shoes.
WILSON'S BIRD OF PARADISE TOUR
Wilson's Bird of Paradise is one of the rarest and therefore most exciting species to spot in Raja Ampat. Endemic to the neighboring island of Batanta (and some remote areas on Waigeo), the trail to their nesting site is only 45 minutes by boat from Papua Paradise Resort. Be ready to depart at 4.30am, and trek through pristine jungle and crisp shallow streams. After about 45-minutes, you'll reach a steep hill known for the birds that frequent. Your guides will follow the song of the birds and
take you to a hide where you will quietly wait for the birds to show up. Each male patrols a certain area so you will probably see males only. Females are difficult to spot. After we've spent some time watching the birds we'll trak back to the boat and have tea, coffee, and snacks. You will see local plantations and traditional wooden farmers' cottages, and will get the chance to sample cacao fruit straight off the trees. This trip has some steep climbs, so requires a moderate level of fitness and good walking shoes.
BATANTA ISLAND WATERFALL TRIP

Batanta Island is a beautiful island around 30 minutes by boat from Papua Paradise Eco Resort. Leaving at 8am the tour starts with a short walk through the mangroves to a small but beautiful waterfall. You can stop here to take photographs and admire the view before starting the 40-minute trek to the larger falls. You'll need some good waterproof walking shoes as the terrain passes through clear jungle streams and forest paths, as well as some steep rocky terrain. When you get to the falls,
you are free to swim in the fresh water, explore the cave behind or recline on the rocks around the falls. Photo opportunities are plentiful, and there are a wide variety of birds, butterflies and other wildlife to see. Snacks and drinks are served, and when the group is ready, it's time to trek back to the boat. This tour arrives back at the resort around lunchtime and guests will need a hat, sunblock, sunglasses and a bathing suit. Towels, snacks and refreshments are included.
Learn a little about the local people and culture on a trip to the small fishing village of Arefi. Many of the staff at Papua Paradise come from this village, which is just about 15 minutes by boat from Papua Paradise Resort, and is home to around 600 people. The tour includes a walking tour through the village. This gives guests a chance to admire the enormous wooden church, the simple rustic cottages, and the rickety
wooden jetties that are crowded with splashing children and villagers fishing with bamboo poles. The tour lasts around 2 hours and includes tea and coffee, a snack, a tour guide and your boat transfers. Don't forget your sunscreen, sunglasses, a hat and especially your camera to take some pictures of the beautiful people and scenery!
HORNBILL ISLAND SUNSET CRUISE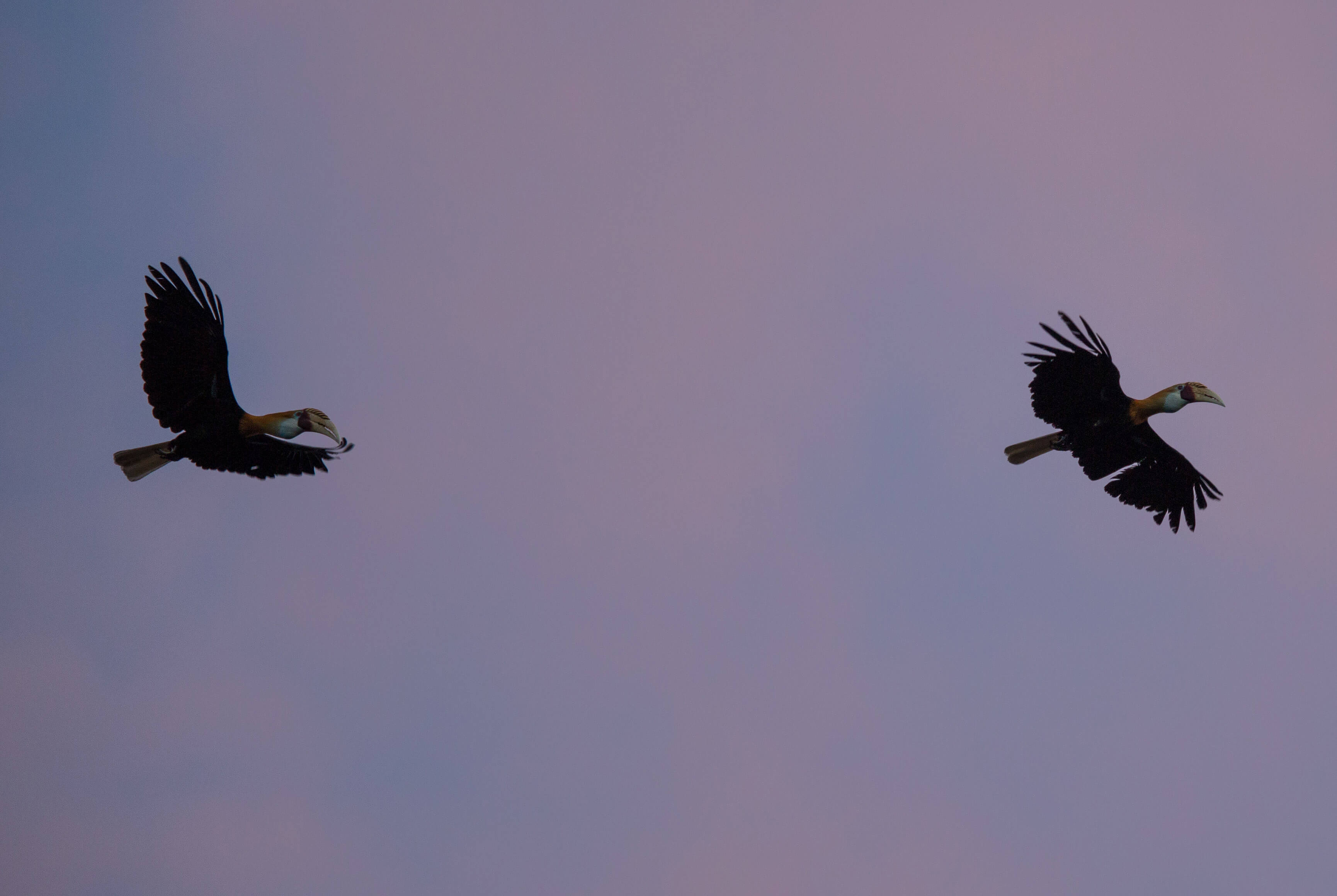 Hornbills are one of the most incredible bird species in Raja Ampat, and there is no better way to see them than a cruise to one of their favorite spots to congregate. Leaving the resort around 5pm, the open-top cruise will weave through the islets and mangrove shores of Batanta to Hornbill Island. It takes around 45 minutes to reach the island, but there are plenty of birds and beautiful scenery to see along the way. By the time you arrive at Hornbill Island it is almost sunset. As the sun sinks behind the horizon, the hornbills start to
appear, almost always in pairs, from all directions and descend on the small islet. The sound of their flapping wings makes a majestic sound that is magical heard in real life. Watch the hornbills come into roost for the night and listen to the evening sounds of the jungle canopy while you enjoy a complimentary beer or soft drink on board. Binoculars, evening snacks and an English-speaking guide are all included in this tour, but you will probably want to bring a camera as well. This is the perfect way to encounter nature at its finest.
MANGROVE RIVER BIRD CRUISE
The mangroves around northern Batanta Island are abundant with unique bird life, best seen by boat slowly snaking through the river inlets. This tour leaves around 6am and takes around 40 minutes from Papua Paradise Eco Resort through the waterways of Batanta's mangroves, where you will cruise for around 2 hours. From the comfort of the boat you may see brahminy kites, white bellied sea eagles,
white reef egrets, rufous bellied kingfishers, beach kingfishers, dollarbirds, olive backed sunbirds, osprey, sulphured crested cockatoos, pied imperial pigeons, Pinon's imperial pigeons, Papuan lorikeets and Blythe's hornbills. Snacks, tea and coffee are served on the boat and you'll be back in the resort in time for a full buffet breakfast. This is the perfect tour for birders or nature photographers.
The Fam Islands are a group of islands around 90 minutes from Papua Paradise. Marine biologists frequent this area and many have said they have never seen such healthy flourishing reefs anywhere else in the world. Your boat to the Fam Islands leaves at 7.30am and heads for the best dive or snorkeling sites according to that day's tides and currents. After 2 dives you'll have the chance to go up to the viewpoint, an easy climb with wooden steps.
Lunch is served before a third dive in the afternoon. You don't have to worry about a thing, as lunch, snacks, refreshments, towels and all your dive gear will be prepared for you. Just don't forget your sunscreen, sunglasses, and your camera. This is also a great trip for non-divers. There is plenty of gorgeous scenery, beautiful walks and deserted beaches. You can expect to be back in the resort about 5pm.
Perhaps one of the most iconic Raja Ampat sites, the day trip to Passage is a must for guests eager to experience the best of diving in the area. The boat leaves Papua Paradise at 7.30am and travels across the straight to the passage between Waigeo and Gam Islands. You can snorkel in the area and also enjoy diving in the famous Passage, where tropical rainforest just above the surface of the water overhangs the narrow rocky gulley in which divers can see a wide variety of macro marine life.
Your second and third dives or snorkels of the day are at the Mangroves of Yangeffo, an amazing place to enjoy the lights filtering through the roots of the magrove trees, and , Citrus Ridge where you can enjoy one of the best soft coral gardens in Raja Ampat. This is one of the most popular excursions on offer at Papua Paradise, and is truly an experience not to be missed. Please note The Passage has moderate to strong currents so divers must be experienced. This tour usually returns to Papua Paradise around 4.30pm.
The Papua Paradise staff will do everything possible to ensure your stay is enjoyable and memorable.
We understand that the little touches matter.