Built on an idyllic tropical island, surrounded with pristine reefs and unspoiled flora and fauna, Papua Paradise Eco Resort - situated in the heart of Raja Ampat - brings you closer to Mother Nature at her best, with all essential standards of service and comfort, making it an unforgettable holiday for divers, snorkelers, bird watchers and nature enthusiasts.
Transportation
| | | |
| --- | --- | --- |
| From | Time | By |
| Sorong Domestic Airport | 15 + 120 minutes | Car + Resort Boat |
Transfer Arrangement:
From Sorong to Resort: Boat departure time is 14h00. On occasion, the boat may depart slightly later due to guest flight delays. For morning arrival, the guests will be transferred to a comfortable hotel lobby where complimentary breakfast buffet and/or lunch are provided.
From Resort to Sorong: Boat departure time is 07h00. Earliest accepted flight departure from Sorong is at 10:30 AM. Guest having a scheduled departure time before 10:30 AM will be transferred one day in advance to Sorong.
We strongly advice to schedule flights arriving Sorong no later than 12:00PM. Guest who have a scheduled arrival time after 12:00PM are required to stay overnight in Sorong in order to catch our boat transfer the next day.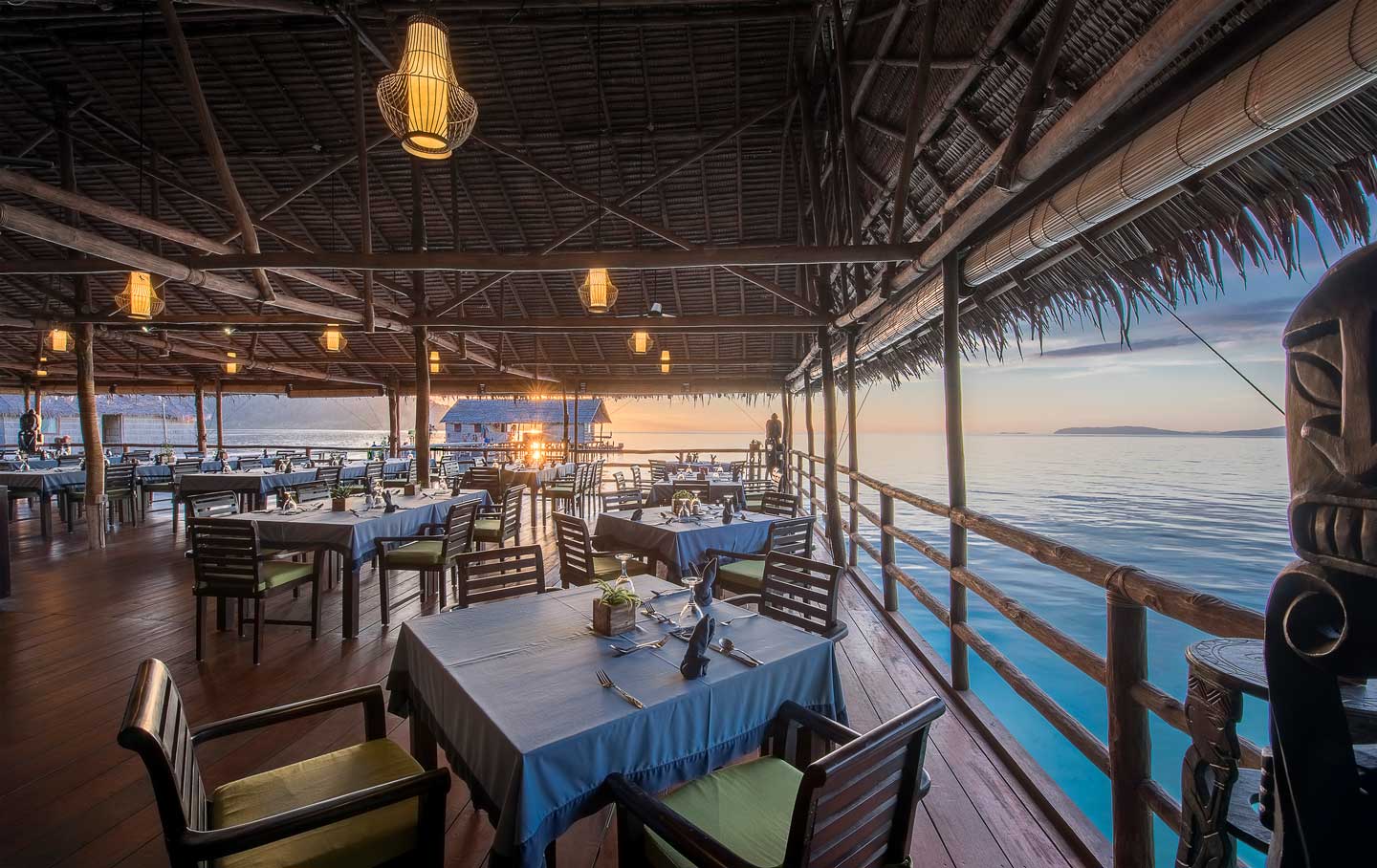 Services
Welcome drink and face towel on arrival
Complimentary coffee/tea making facilities
Evening turn-down
Purified drinking water
Internet Access: Free Satellite Wi-Fi in the dive center lounge, adequate for emails and web browsing.
Concierge & ticketing confirmation service
Free laundry service
Facilities
Gangga Divers Diving center
Spa in Paradise
Sunset Restaurant
Sunset Bar
Accommodation
10 Deluxe Bungalows
16 Superior Bungalows
Private bathroom with hot & cold fresh water shower
Complimentary coffee/tea making facilities
Safe deposit box
Pedestal fan
Mosquito net
Ocean view desk with emergency light, extra electrical charging socket and mosquito repellents
Sunbeds and hammock (Superior room)
Two tier open large sunset veranda with daybed (Deluxe room)
Sundeck with sun beds (Deluxe room)
Indoor cozy corner with couches (Deluxe room)
Refrigerator (Deluxe room)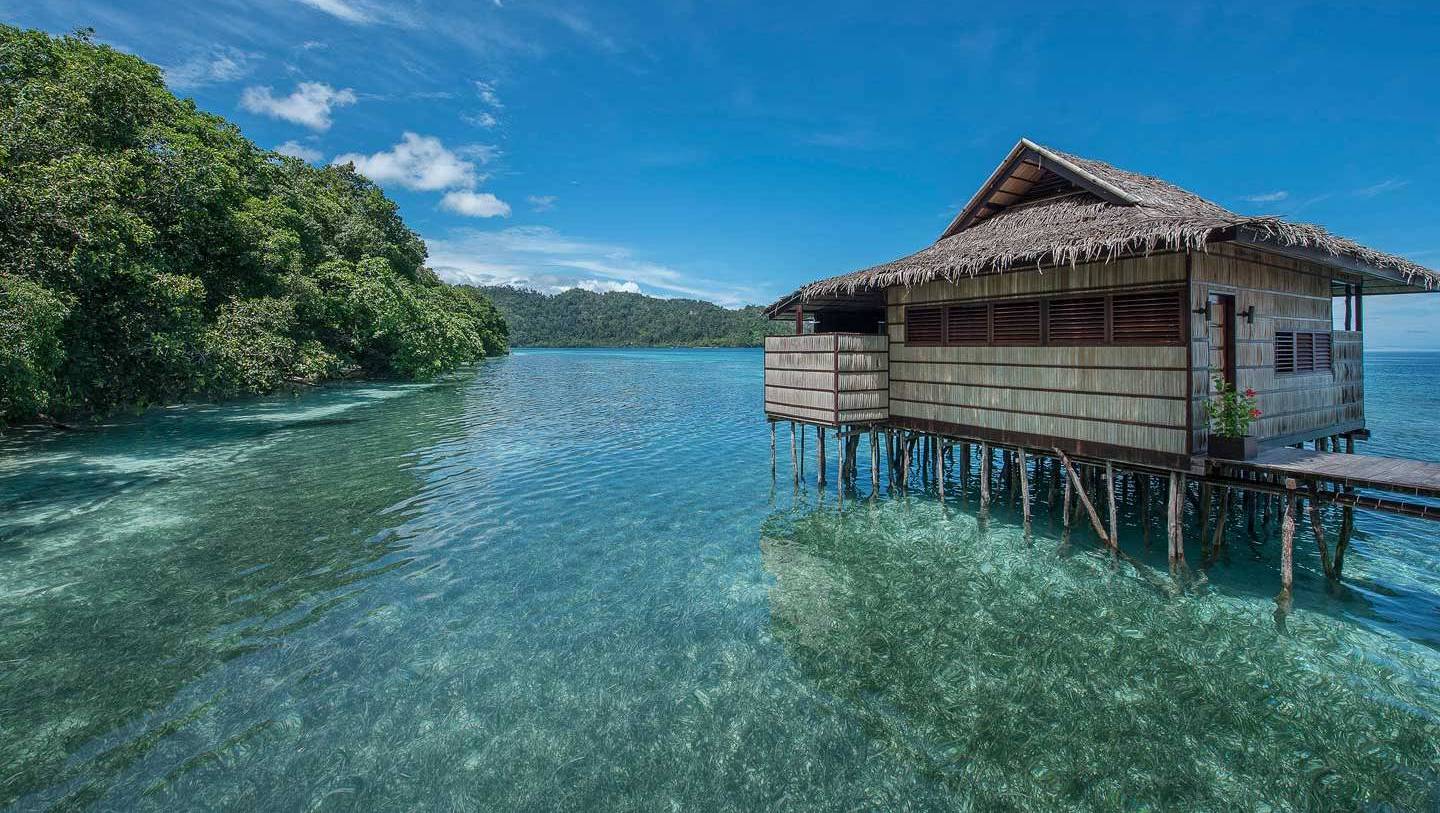 Kayaking
Scuba Diving
Snorkeling
Bird Watching around the resort
Wilson's Bird of Paradise (Bird Watching) Trip
Red Bird of Paradise (Bird Watching) Trip
Non-diving and snorkeling excursions: Village Tour, Mangrove and Hornbill cruises
"Passage & Mushroom Islands Excursion": A full day trip to Hidden Bay, The Passage and Mushroom Islands
"Fam Islands Excursion": A full day trip that includes 2/3 spots for snorkeling or diving plus a walk up to Fam islands viewpoint
Visitor Information
Climate: Tropical between 28o – 30o C (82o – 86oF),
Voltage: 220, transformers available
Currency: Indonesian Rupiah (IDR)
Foreign Currencies & Credit Card Acceptance
We accept payments by Cash US Dollars and Euro, as well as VISA and MASTERCARD.
Location
The resort (S 0° 46' 238", E 130° 44' 737") is on the north-eastern peninsula of jungle-covered Birie Island. Located just behind the larger island of Batanta (one of the four Rajas), and is about a 2-hour boat ride from the nearest West Papua port of Sorong.
Gangga Divers
Our professional diving facility operates according to best safety and PADI standards, with a personalized service and professionally trained dive guides. With this standard, the maximum diver to guide ratio is 4 divers to 1 dive guide, guiding you through the underwater world of Raja Ampat. With over 1300 fish species and 540 coral species, Raja Ampat is considered the richest coral reef ecosystem in the world with its splendid marine biodiversity.
Diving Center & Facilities
Library with a choice of marine books, plus flora and fauna books.
Classroom for PADI courses equipped with TV.
Male & Female Toilets
Equipment crates, washtubs and drying facilities for dive equipment
Locked storage room for dive equipment
New or well-maintained rental equipment by Aqualung
6, 8, 12 and 15 Liters Aluminum Tanks; Valves and adaptors INT and DIN
Nitrox (~32%) is available free of charge for Nitrox-certified divers
4 Well-maintained and well-aerated Coltri Compressors for safe air fills
1 NITROX membrane system and 1 continuous Gas Blending station
Air-conditioned camera room with workstations
Boats
1 Fiberglass boat with sundeck and toilet which can accommodate 8 to 12 divers, powered by 3 silent, 4 stroke 200 HP engines
1 Fiberglass boat which can accommodate 6 to 8 divers, powered by 2 silent, 4 stroke 200 HP engines
2 Fiberglass boat which can accommodate 6 to 8 divers, powered by 2 silent, 4 stroke 150 HP engines
4 Fiberglass boats which can accommodate 1 to 5 divers, each powered by two 2 silent, 4 stroke 50 HP engines
2 Fiberglass boats which can accommodate 1 to 5 divers, each powered by two 2strokes 40HP engines
Safety equipment such as VHF marine radios, GPS, life jackets, first aid kit, DAN First-aid Oxygen kits
Fresh towels on board
Drinking water
Binoculars (on request)
Hot water, tea and coffee
Fruit
Camera crate / Fresh water for rinsing camera (upon request)
Homemade snacks
Spare diving equipment
Gangga Divers Diving Centers are located at:
Gangga Island Resort & SPA (Manado, North Sulawesi), Lotus Bungalows (Candidasa, Bali), Villa Almarik (Gili Trawangan, Lombok) & Papua Paradise (Birie Island, Raja Ampat) 
The Papua Paradise Eco Resort staff will do everything possible to ensure your stay is enjoyable and memorable.
We understand that the little touches matter.