Papua Paradise Eco Resort
The Resort
Our resort, situated in the heart of Raja Ampat, provides all essential standards of service and comfort. Surrounded with pristine reefs and unspoiled flora, the island is a haven for both divers and non-divers. The 26 waterfront bungalows overlook a long stretch of house reef that offers world class snorkeling, and the jungle paths around the border of the peninsula are surrounded by magnificent untamed wilderness, shrouded with enormous towering trees. Through this jungle foliage a myriad of tropical birds can often be seen, including Blythes Hornbills, Palm Cockatoo, Sulphur-Crested Cockatoo, Imperial Pied Fruit Pigeon, and a great deal more.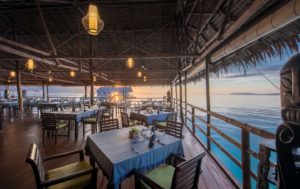 The Restaurant
Like the bungalows, our Seaview Restaurant overlooks the pristine house reef, the surface of which is constantly rippling with leaping baitfish and the lithe juvenile reef sharks that live in the bay. We serve a variety of European and Indonesian Cuisine on an elaborate buffet, and no effort is spared in our kitchens to ensure the highest quality of the food and service to our guests. All locally grown produce available (such as bananas, jackfruit, cassava, water spinach, various other greens and more) is purchased from villages in the surrounding islands; many other vegetables and fruits come from our vegetable garden, while other items are purchased from the local port of Sorong. Specialty items like yoghurt, all bread and cakes, as well as pasta and ravioli are all homemade and are served fresh.
The Papua Paradise Eco Resort staff will do everything possible to ensure your stay is enjoyable and memorable.
We understand that the little touches matter.