Top 5 Dive Sites in Raja Ampat
There are many hundreds of dive opportunities in Indonesia, but for many divers Raja Ampat is the ultimate dive destination. The sheer number of species of marine creatures, the health of the reefs and the clarity of the water makes it as near perfect as a dive destination gets. There are more dive sites than you could visit in one trip, so if you have to make some choices, here are our top 5 dive sites in Raja Ampat.
1. Fam Islands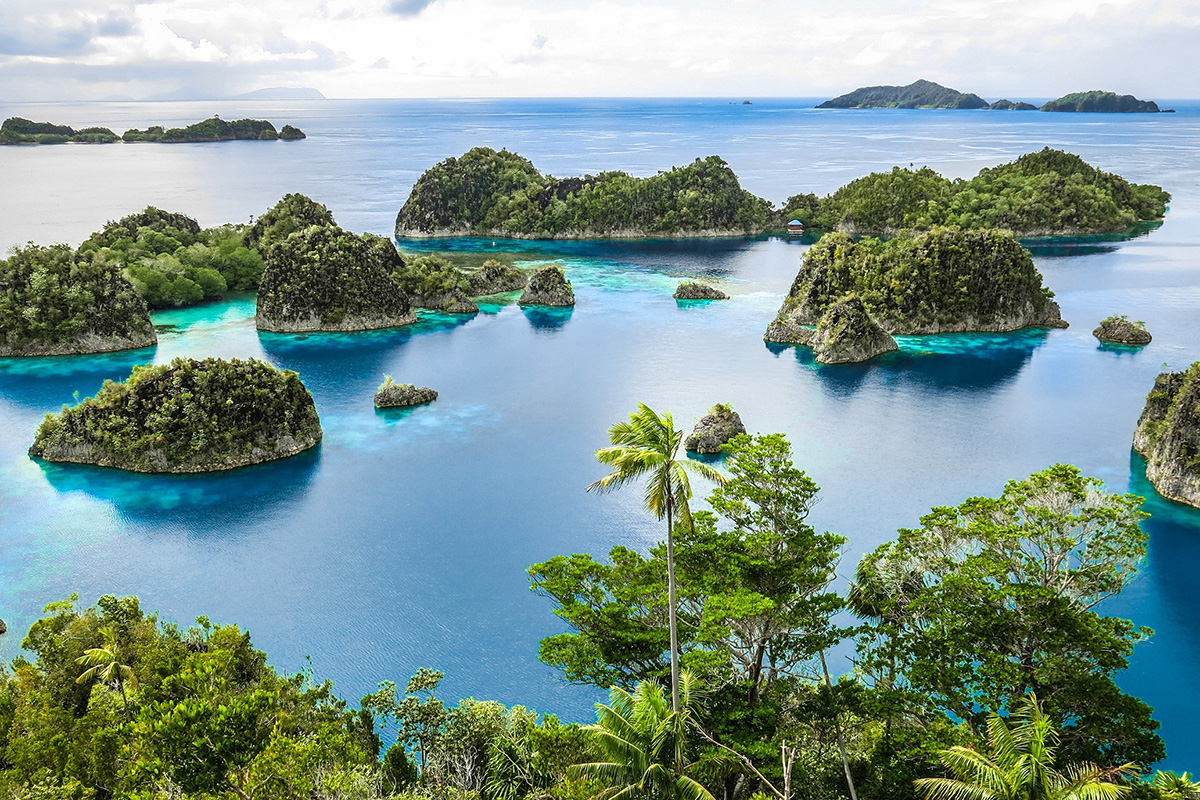 The Fam Islands consist of a number of small islands and 4 larger 'main' islands – Fam, Penemu, Inus, and Yar. Marine biologists frequent these islands due to the incredibly healthy flourishing reefs found here so you know there is plenty to see.
A couple of the best dives here are Melissa's Garden and Penemu Wall. Both are sites teeming with marine life, from wobbegongs and reef sharks to tiny pygmy seahorses, ghost pipefish and nudibranchs of every colour and shape. Penemu Wall is especially well known for its huge gorgonian fans that can grow up to 3 metres across!
The Fam Islands are located around 90 minutes from Papua Paradise Eco Resort so these sites are visited as part of a day trip. If you'd like to know more about this trip read: Fam Islands Day Trip
2. The Passage
The small shallow channel that separates the islands of Waigeo and Gam is known as The Passage. This is perhaps one of the most iconic of Raja Ampat's many dive sites.
This area has a variety of different seascapes, from mangroves where the light filters through in breathtaking patters, to rocky underwater ridges where macro marine life like to hide away. There is also Citrus Ridge which offers one of the best coral gardens in all of Raja Ampat.
The currents here can be very strong, so this area is only recommended for experienced divers. However, it is also a wonderful location for snorkeling as well. Like the Fam Islands, The Passage can be booked as a day trip. Read more about it here: The Passage Day Trip
3. Dampier Strait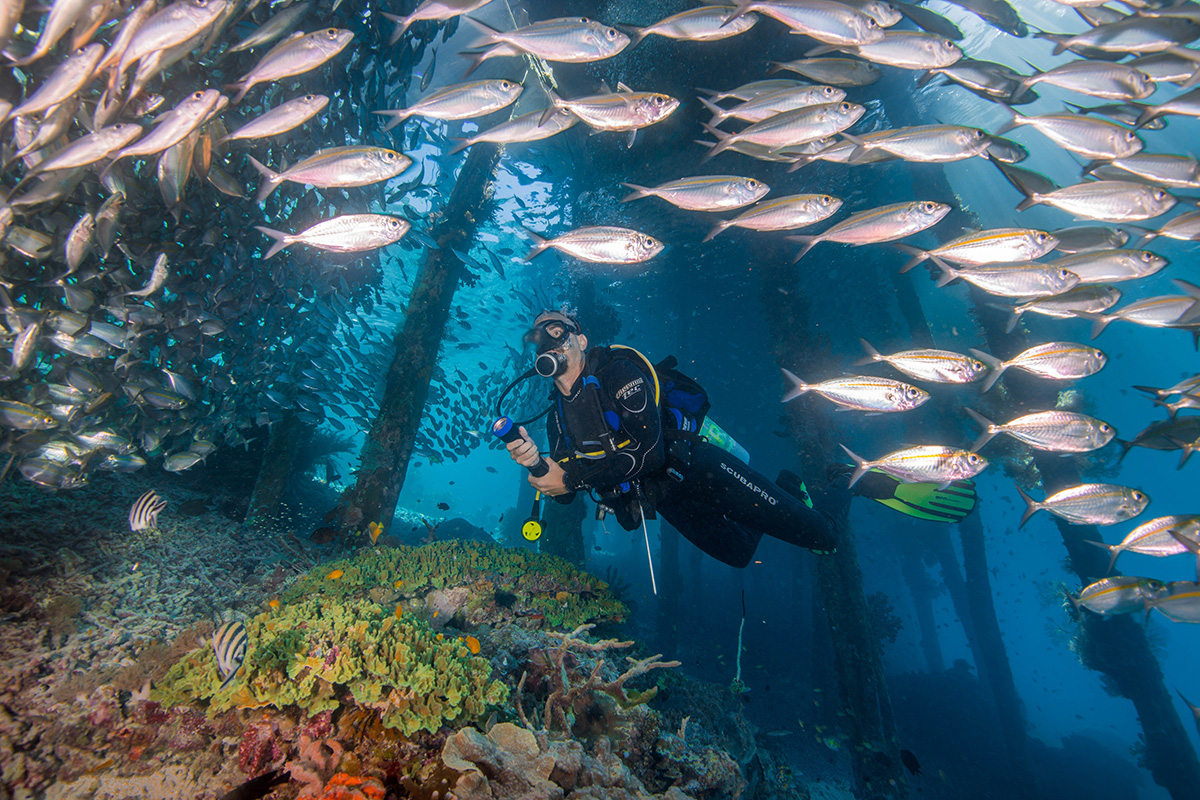 The Dampier Strait flows between the mainland of West Papua and Batanta Island and the large island of Waigeo to the north. This strait has extremely rich marine life thanks to the large amount of water passing through, and therefore amazing dives.
Sardine Reef, Cape Kri and Arborek Jetty are all well known dive sites in the Dampier Strait, and there are plenty more as well. Vibrant schools of fish thrive in the strong currents of the strait, but of course divers must be aware of the dangers.
4. Manta Sandy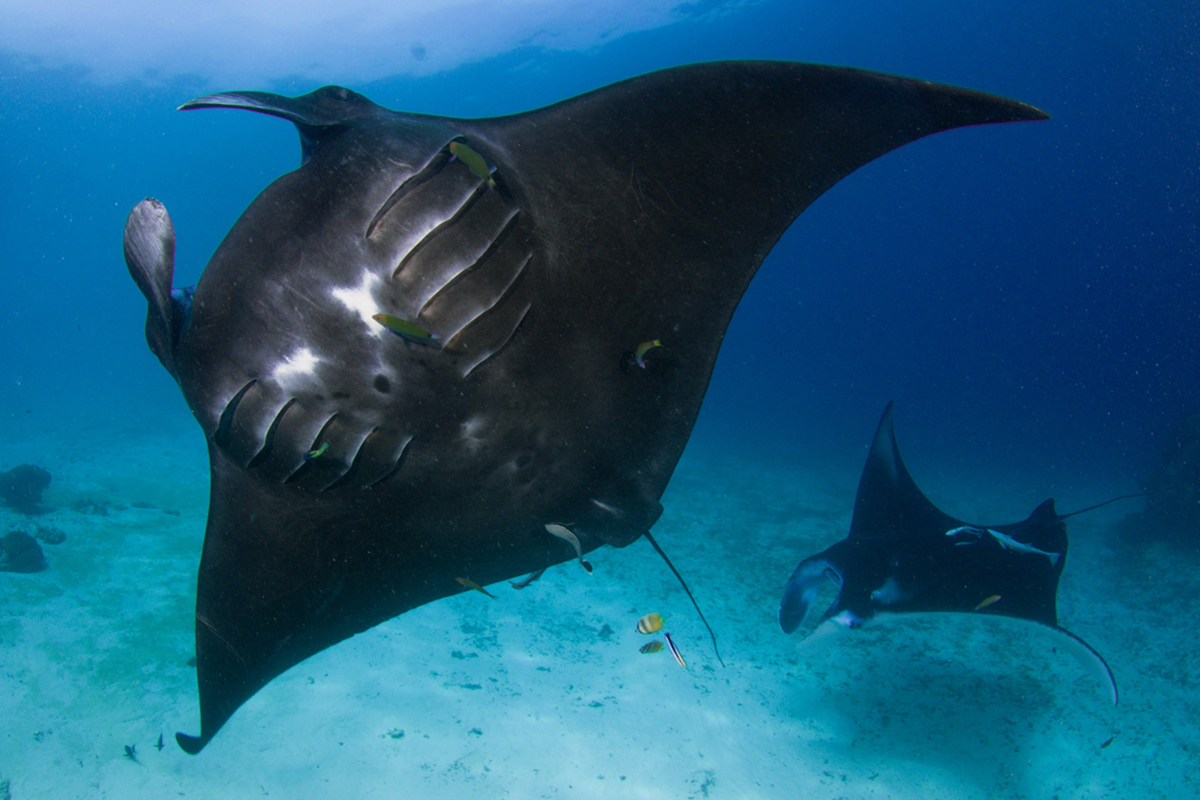 Manta Sandy should technically be in number 3 as it is in the Dampier Strait. However, divers looking for mantas usually make this site a priority.
This is quite a shallow dive at 18 metres so is appropriate for any skill level. This spot has a variable current and a large concentration of plankton, which attracts the rays. It's not uncommon to see up to 20 rays stopping by for a tasty snack.
It's possible to dive manta Sandy when you stay at Papua Paradise, but a more tourist-heavy times of the year Gangga Divers has another manta spotting dive that is less crowded than Manta Sandy.
5. Batu Lima
Batu Lima, or five rocks, is at the southwest entrance to Kabui Bay. There are five large rock formations that stick out of the water here, hence the name. Apart from being a beautiful location, the draw to this dive is the huge coral fans you'll find at just a few metres from the surface. The gorgeous coloured corals range from purple to black and many colours in between.
And with the healthy corals come plenty of colourful fish as well. Travellies hunt here and you may even run into a few blacktip or whitetip sharks.
Top 5 Raja Ampat Dives for Your Itinerary
If you're planning a trip to Raja Ampat you're most likely a diver. The draw to this part of Indonesia is very strong for divers and spending time in the islands is a dream trip for many. Hopefully these five dives will be put on your itinerary and we hope you find them as breathtaking as we do. Which dive sounds like your number 1? We'd love to know in the comments below.