Scuba Diving conditions in Raja Ampat
If you are a diving enthusiast, it is highly likely that you have been to Indonesia. If not, then this must be on your must-visit diving destinations. Of the hundreds of diving locations in the country, Raja Ampat holds a prominent position because it has been classified as the most bio-diverse marine region in the world. It features more fish, mollusk and coral than any other place on the planet.
The Ultimate Diving Experience
The archipelago has over 1,500 islands, providing myriad opportunities for divers to explore the marine world and capture awe-inspiring moments underwater. The beauty of Raja Ampat is the fact that no two dive sites, islands or islets are the same, providing for a diverse diving experience. Whether you are a beginner or an old hand in scuba diving, this will be your ultimate diving experience.
There is a diverse range of species including the Giant Trevally or the Dogtooth Tuna, Black tip and White tip reef Sharks, the beautiful Wobbegong Shark, Manta Rays and Whale Shark among others. The amazing diving sites are globally renowned and include Friwin Island Manta Sandy, Batu Lima, Francisco's Peak and Jet Fam to mention a few.
Diving Conditions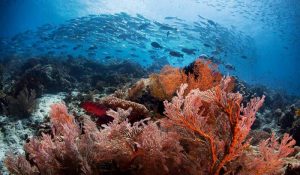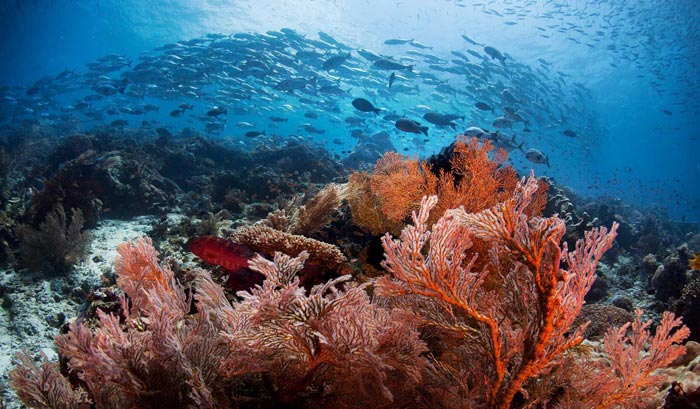 As an avid diver, you appreciate the importance of learning about conditions in a specific area before travelling. A diving spot might be highly rated but there are many conditions that can lead to a poor experience including temperatures, rainfall, wind, and currents among others. At Raja Ampat islands, the conditions are amazingly good throughout the year, making this one of the top scuba diving destinations in the world.
The water temperature is ideal throughout the year at around 28 °C because the islands lie on the equator, which makes it perfect for both the diver and the marine species. While visibility is not great, you can still enjoy views from 10 to 30 meters on a good day depending on the dive site. The current also varies depending on the dive site ranging from none to very strong. Based on the site, you can expect depths of 10 to 40 meters, which means different types of divers can enjoy their experience in different sites.
Being a topical region, there is a lot of rainfall though this reduces during the North West Monsoon Season from October to April. Strong winds are experienced from mid-June to mid-September and diving is less pleasant at this time.
As far as diving conditions are concerned, you can enjoy snorkeling and diving throughout the year in Raja Ampat. There is really no high season or off-season because you can always find a favorable diving site at any time of the year.  Come to Papua Paradise Eco Resort and enjoy your holiday any time you want, contact us now!!